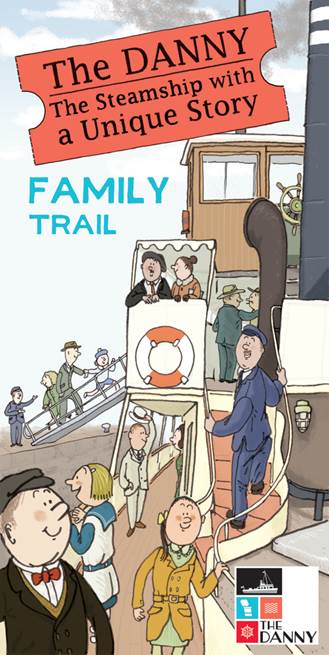 The Danny offers a great, shared experience for families. For children, it's an exciting new world to explore, up gangways and down companionways, peering into darkened engine rooms and mysterious boiler rooms, and relaxing in the saloons and on the promenade deck. And dads and mums have steam engines, local history and classic Art Deco design to enjoy.
Our free family trail has been created by artist Jim Medway together with children from St Vincent de Paul Primary School, so it explores the curious things in the history of The Danny that sparked the children's interest. Our installations in the Art Deco lounges create the atmosphere of the 1930s, when the Danny hosted visits from ambassadors, princes and kings.
We will be providing family activities and storytelling sessions during the school holidays, so please watch our website for details.
Our volunteers are very proud to have saved The Danny for future generations, and will do everything they can to ensure your family have an enjoyable visit. Many of them are a direct link to the working past of the ship.
However, as a 1903-built working vessel, the Danny has some limitations that you will need to consider when planning a visit.
Buggies cannot be taken on board – they cannot negotiate the gangways, and we cannot keep them on board, as we need to keep decks clear for safety. You can store your buggy at the quayside by the gangway. A member of our team will be stationed there, and will keep an eye out, but we cannot guarantee its security.
We would also request that you use either the public toilets or those of our partner museum before boarding, as we do not currently have changing facilities on board. There are very steep staircases, so keep little ones close to keep them safe.