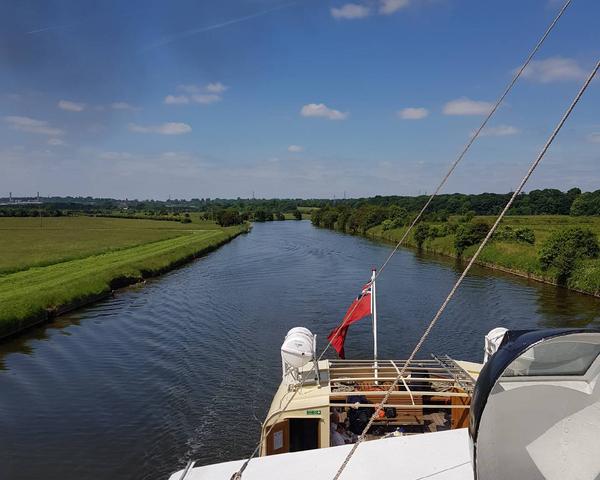 2021 Cruises now available to book
Published: 23rd Jul
Please go here to view our 2021 timetable and to make a booking
The "Danny" Team Plan For Record Year On The River Weaver
Historic steamship cruise schedule announced for 2021
The team at the charity managing the 1903 built steamship The Danny, are planning to break all records next year when the vessel returns to full steam on the River Weaver, in a public cruising schedule beginning on 7th May and not finishing until 1st October 2021. The ship, full name "Daniel Adamson", can carry 100 passengers but will not now cruise in 2020 as officials monitor government guidelines and put the health and safety of their passengers and volunteer crews to the fore. Bookings in 2020 were already at an all time high and the majority of these customers have requested to transfer to a cruise next year.
"Great Canal Journeys" TV boost
Bookings had already been boosted by the television appearance of the Danny with Timothy West and Prunella Scales on board in late 2019, in the "Great Canal Journeys" documentary, which enjoyed great popularity with the public. The use of the vessel in a programme about waterways in the North West was at the request of Timothy West who had followed the restoration of the "Danny" on social media.
Andrea Ward (Director) said "Our bookings were already increasing year on year and we were well prepared for the TV audience impact on our website and booking system. It is estimated that in line with the rest of the heritage market, the programme gave the "Danny" a boost in bookings of approximately 15 to 20%. It was great for our volunteers to be praised highly by Tim and see their great work nationally recognised on T.V."
Cheshire`s Stunning Countryside
The cruises, varying in length from a short 90-minute cruise, ideal for families, to a full 5-hour waterway experience, will take in many historic architectural features in the stunning Weaver valley. The vessel will steam silently at a steady pace for all to enjoy the sights including the prolific wildlife.
Additional Themed Cruises
In 2019 gin tasting cruises were introduced, in partnership with the Liverpool Gin Company, and these proved to be extremely popular - some selling out in hours. In the knowledge that the public like to enjoy a tipple, in 2021 Rum and Vodka cruises will be introduced giving customers the opportunity to appreciate the national drinks of Russia and the Caribbean.
Andrea Ward (Director) said " Our volunteers work incredibly hard all year, whether it be painting the ship, maintaining the engines, manning the decks or giving guided tours for visitors when we are berthed, and they relish the days when customers come on board, and with a full head of steam, they cast off and head out into the river"
Details of the "Danny" including her unique history, working life, restoration, volunteering opportunities and how to book can be found on www.thedanny.co.uk or by emailing enquiries @danieladamson.co.uk