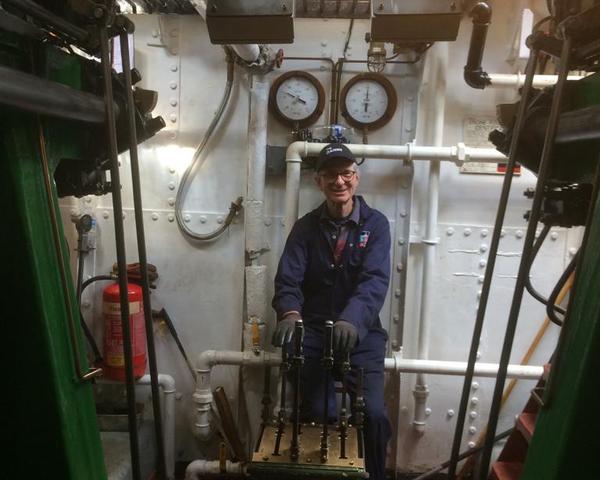 Changes to the helm
Published: 20th Jan
Changes at the Helm of the Daniel Adamson, a 1903 Steam Ship, currently sailing on The River Weaver in Cheshire
Since 2004 the Steam Tug-Tender Daniel Adamson has gone from the threat of being scrapped, to a full restoration and then successful launch as a leisure passenger vessel under the direction of its Chairman Dan Cross.
In May 2020 the ship will embark on its fourth season of operation since it's multi-million pound restoration spanning over 12 years having been bought for £1 by Mr Cross back in 2004 just days before her impending demolition.
Dan Cross, who is also one of the founder members has this year sadly stepped down as Chair following an exhaustive fifteen years as Vice-Chair until 2009 when he took over as Chair.
Dan's time in that role saw a new board of Trustees formed and the overseeing of both applications to the Heritage Lottery Fund (as was) with the second application finally being approved in late 2014 enabling the work of restoring the Danny to start at Cammell Lairds Shipyard in early 2015.
Dan, a Tug Captain now in Liverpool was awarded the prestigious "Preservationist of the Year" award by HRH Price Michael of Kent on behalf of the Transport Trust back in 2017 and the "Flagship of the Year" award by HRH The Princes Royal on behalf of National Historic Ships UK.
On 31st December 2019 Dan stepped down as Chair of the board of Trustees and also from the board and has been succeeded by Keith Levin, a retired Solicitor and Immigration Judge. Keith was born in Liverpool and following his retirement in 2015 he began volunteering on the Daniel Adamson and joined the board of Trustees a year later.
Keith is a volunteer engineer and is often found in the engine room on steaming days and maintenance days alike. Keith can also be found above water in the clouds as he holds a private pilot's licence, another passion of his.
Dan Cross commented "This has been the most challenging project I am ever likely to be involved with and circumstance meant I was committed to this old lady at day one. It's been a massive privilege to work with some fantastic people over the years, their support and assistance and indeed friendship has been priceless and I thank everyone for making this one of the best examples of a team effort that never gave up. After ten years as chair its time to hand over and allow the Danny project to be developed further, ensuring and safeguarding its still here for future generations. Its time for a new five year plan for the Trust and while I will continue as a volunteer, I will also step down from the board to give Keith and some of the new members of the board a blank canvas to work with and I wish Keith and the board well.
Keith Levin assumed the role as Chair over the festive period and along with several long standing Trustees such as former River Pilot Stuart Wood, former Director of National Museums Liverpool and now Professor of public history at Liverpool Hope University, David Fleming have been joined by new Trustees including Bob Gwynne who is an associate curator at the National Rail Museum and James Seddon who works as the Program Manager at the Royal Philharmonic Hall in Liverpool.
Keith Levin commented "It is often said that the Danny is dual powered, by coal and volunteers. I can honestly say that I have never come across a more dedicated band of volunteers who individually give many hundreds of hours of their time to preserving and keeping operational a unique piece of maritime history. Dan Cross will be a very difficult act to follow but I will certainly give the role of Chair of the Trust my very best to ensure that the Danny is preserved not as a museum piece but as a living and working steam ship so that future generations can marvel at live steam at work. It is truly an honour and a privilege to be associated with such an important and challenging project".
The "Danny" as she is affectionately known has become a familiar sight especially on the picturesque River Weaver in Cheshire where, she is now most commonly found offering a mix of public cruises, educational trips and static events both public and private.
During 2020 the ship will again be offering an extensive mix of trips on the Weaver between Runcorn and the Famous Anderton Boat Lift with varying trip lengths and prices to suit all with her first public trip will be on the 8th May running through to October (see www.thedanny.co.uk for cruise timetable).
PRESS CALLS – [email protected]
Images of the ship, Dan Cross are available. Permission is given to lift any images from website/Instagram @dannyinsteam