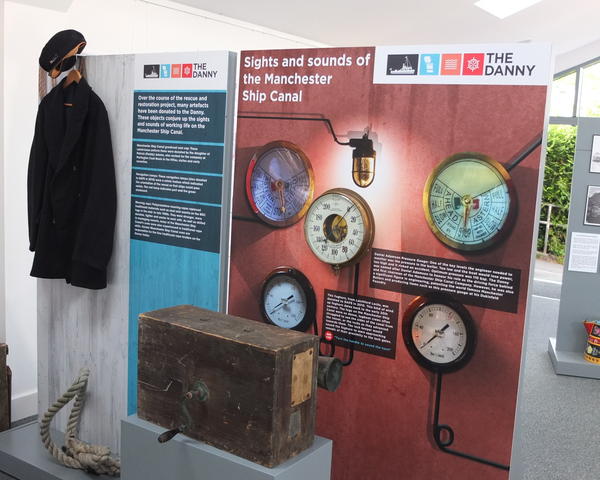 New Exhibition launched at Lymm Heritage Centre about The Danny
Published: 6th Jul
NEW EXHIBITION LAUNCHES AT LYMM HERITAGE CENTRE EXPLORES HISTORY OF MANCHESTER SHIP CANAL
Recently discovered "never before seen" historical artefacts from the early days of both the Manchester Ship and Bridgewater Canals have gone on display as a component of the new exhibition at Lymm Heritage Centre showcasing the importance of the towns links to canal transport.
Working in partnership, the ship canal artefacts have been collected by members of the Daniel Adamson Preservation Society (DAPS), the body that manage the 1903 steam ship now based on the River Weaver and Lymm Heritage Centre volunteers and arranged into a unique display.
Amongst the many items there are artefacts from the Bridgewater Canal and narrow boats in their heyday, an interactive display telling the story of the ss Daniel Adamson, the last remaining ship canal steam tug, uniforms, pressure gauges but pride of place goes to a unique hand held fog horn once used at the nearby Latchford Locks . The fog horn still in full working order can be sounded for a small donation.
The Heritage Centre in Lymm is close to the Bridgewater Canal behind the Sadlers Arms pub on Bridgewater Street and is open to the public Thursday to Sunday 11.00 am till 4.00pm.
Alan Williams Chairman of the Lymm Centre said "Lymm has a rich history going back many centuries and the story of the towns role in Britain's waterway history is one we really want to tell. Lymm has a wonderful position on the Bridgewater canal and local financiers played a major role in the building of the Manchester Ship Canal which flows on the towns northern border"
Cathriona Bourke Education Officer for the Daniel Adamson said " Very much in the same way as Lymm people have found artefacts to support this exhibition, DAPS has received many generous donations from members and volunteers which have languished until now in store cupboards but working with Lymm Heritage Centre has given the society a great opportunity to let the public witness this important part of Britain's waterway history"
The exhibition was opened by Councillor Mrs Anna Fradgerly, Lymm Parish Council
Leader (Mayor) and her mother, Mrs Luigia Gibbs attending as Mayors
Assistant on Thursday 21st June in readiness for the Lymm Transport History Day on Sunday June 24th and was to prove immensely popular with the public on the day.
A public car park (1hour free) is situated next to the Heritage Centre, access from Bridgewater Street
Both the ss Daniel Adamson Steam Ship and the heritage centre are projects supported by the Heritage Lottery Fund.
For more details on The Daniel Adamson go to www.thedanny.co.uk