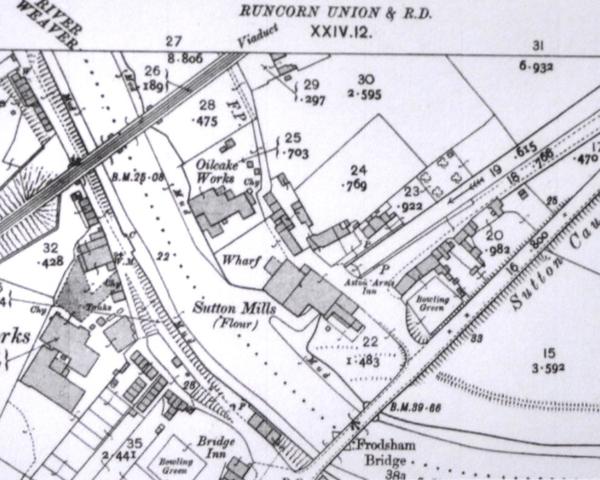 News from Frodsham Historic Society
Published: 27th Apr
REMINISENCES - MILL LANE IN THE LATE 1940s
Harry Leather
The first visit to my grandparents home in Mill Lane, Frodsham was when I was six. I arrived with my mother on a green Crossville bus and we got off opposite the Bridge Inn. We had brought jam tarts in a tea-towel covered basket. Walking over the white bridge and turning down into Mill Lane past the Aston Arms I apparently screamed when Bert Nicholls' huge and menacing guard dog made it clear that he was the hunter and I was the prey.
OS 25 inch map, 1911 edition, Frodsham Bridge area. Mill Lane runs parallel to Mill Cut from Sutton Mills
The smell from the Mill was quite strong, a soft farmyard straw and hay smell, but not unpleasant. A flat backed truck was parked next to the wall from which a large shiny metal chute projected. All at once a large sack came down the chute expertly taken up by a muscular man who deftly avoided being thumped off the lorry and stacked it on a pile that was growing near the cab.
My mother pointed out a big metal water pump outside the cottages on the other side of the road where several pints of milk were cooling in a large sink under a trickle from the pump. She told me this was where she collected water before mains water came to Mill Lane.
My grandparent's cottage was the second one after the pub and still has the cobbles outside that I remember. Inside the front room was a cooking range that seemed to occupy the whole wall and it had a fire blazing away. My kindly grandmother welcomed us in and swung a black kettle over the flames - in that order. She was delighted with the tarts. Soon tea was served with a mug of water for me. In the next room there was a harmonium and I was allowed to pump the pedals whilst my grandmother picked out a tune.
I asked to go to the toilet and was taken down the garden past rows of carrots, beans, potatoes and leeks to a brick building with a wooden blue door in the centre of which was a large kite shaped hole in its middle. I wasn't sure which of the three circular wooden lids to
lift so I chose the nearest one, I immediately wished I had not and conducted my ablutions in record time, in fact, for the length of one gaspingly held breath.
We had a little while before our bus came so we walked to the end of Mill Lane. The last building held Bert Nicholls' cow - a heavy Friesian lying on a bed of straw chewing at some hay. We looked into the brook which ran slowly alongside of the lane and my mother told me it used to power a water wheel in the mill before electricity arrived.
A little further from the junction with the A56 We came across a large black and white television screen which just then started to flash its message "BRIDGE CLOSING". We had plenty of time to stroll back to the bus stop and soon our bus arrived to take us back to our home in Runcorn where we had a gas cooker, a real flushing toilet and a 9 inch Pye television with moving pictures on its one channel (with just the test card to watch between 6.00pm and 7.00 pm).
The above article is from: Frodsham & District History Society Journal Issue no.46 December 2016