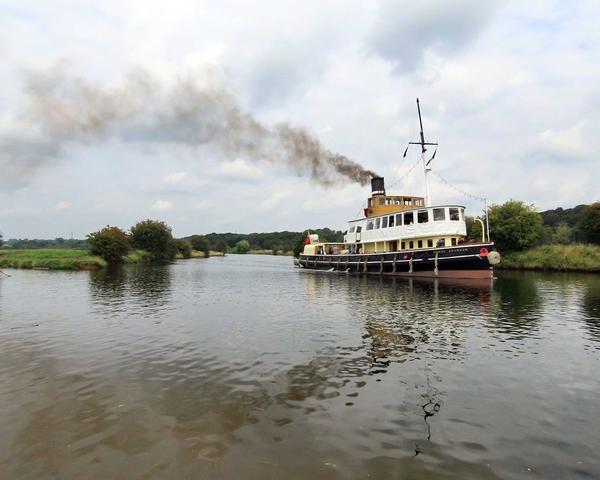 Showcase for Cheshire food and drink producers
Published: 28th Sep
Showcase opportunity for Cheshire producers –Imagine promoting your product on its own themed cruise, held on a beautiful heritage vessel.
The 1903 Daniel Adamson Steamship offers cruises along the picturesque River Weaver from May to October, usually selling out with a capacity of up to 80 passengers on cruises which last from 2.5 to 5 hours.
The heritage vessel wishes to offer its 2022 passengers a choice of Cheshire produce during its cruises to buy from its galley which sells alcoholic drinks, hot drinks, soft drinks, snacks, light lunches and cakes. The cruise programme always includes themed cruises – such as its popular gin cruises which the team wish to reinvent for next year using local producers – beer, cheese and wine and rum cruises are also planned – but local producers interested in getting involved are needed.
The cruises are very popular and attract a variety of visitors including steam enthusiasts from across the Uk, visitors looking to celebrate a special occasion, coach groups and families. Private hires also mean a further opportunity as weddings and parties are often booked on the ship. Caterers are often requested for the events and again we would like to recommend Cheshire based companies.
Anyone interested in selling their produce on the ship or get involved with a themed cruise are asked to get in touch – email [email protected] – (we would need producers to be able to drop off their produce at the ship)