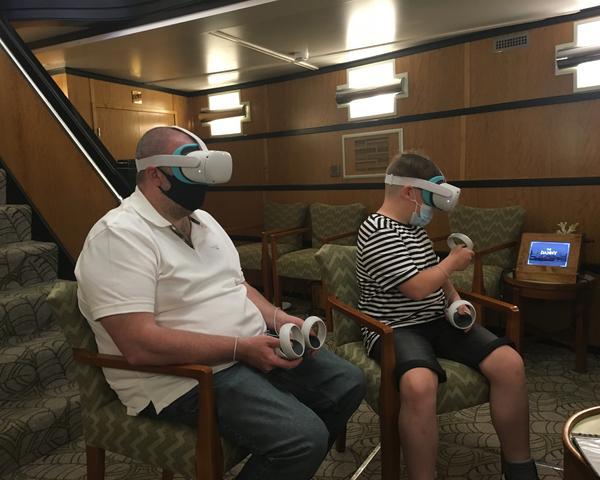 The Danny goes into a Virtual world
Published: 12th Jul
Virtual Reality Experience:
Scenegraph Studios
has created a fully immersive interactive Virtual Reality experience for the Danny, which allows users to step inside and control the Daniel Adamson on journeys on the Manchester Ship Canal, navigating through twists and turns to get safely into Marsh Lock, which allows the Danny into the River Weaver.
Users are also transported to 360 VR, viewing parts of the boat which are not available to the general public.
Users can also remove sections of the Danny's 1953 boiler and step right inside, learning the names of the different parts of the boiler system.
The application is built on the latest VR headset, the Oculus Quest 2. No cables or computer are required, meaning this VR resource can be taken out to events around the country engaging the next maritime engineers and steam ship enthusiasts.
These new VR resources allow us to engage with young audiences, and have allowed us to engage with young engineers and Danny volunteers during lockdown to collaborate in the creation of this resource. It is also a great tool to improve access to the Danny for those who cannot negotiate the steep stairways and ladders around the vessel – they can still get to see and experience it virtually.
Finally, it will help as a training tool, during times when access to the Danny is limited (because she's in dry dock, or in the event of another lockdown).
Augmented Reality Guide:
We've also created an Augmented Reality guide for self-guided visits to the Danny. This short guide gives a potted history of the Danny, and an outline of the key engineering and Art Deco features. It also allows visitors the option of scanning the embedded QR codes in order to see 3D models of features of the vessel (the boiler, the engine, a carousel of images of the saloons across time), to enhance their understanding of what they are looking at, and what they are reading about.
360' tour of the Danny
Virtual Gallery
We've converted the Danny's promenade deck and saloons into a virtual gallery that we are using to showcase work by our cultural, heritage, youth and school partners. Our first exhibition explored the work of Kate Davies, who has been commissioned by
Abandon Normal Devices
to create an immersive installation on board the Danny, which took place at the weekend, but is still available to see here
https://www.thedanny.co.uk/explore-the-danny