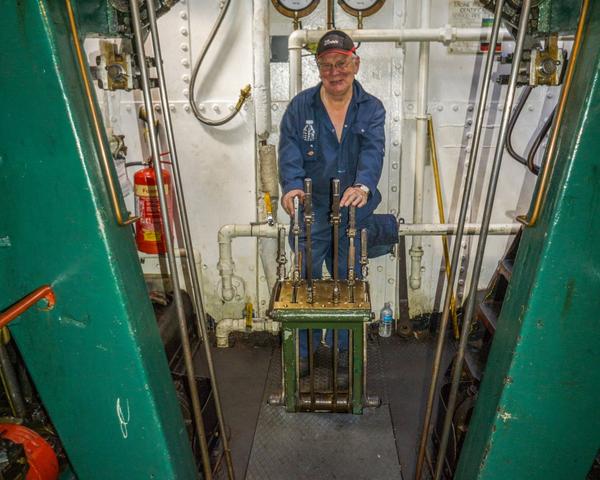 Volunteer recruitment day
Published: 8th Oct
The Daniel Adamson will be holding a Volunteer Recruitment Day on board at our berth at Sutton Weaver Swing Bridge (WA6 7JA) on Saturday 23rd October from 12:00-16:00.
This recruitment drive is specifically aimed at volunteers looking to join our Engineering Department, which is responsible for all things mechanical in the operation and maintenance of our 1903 coal fired steamship. Experience from a marine background is not essential, as we have a training programme covering all aspects and roles from stoker/fireman up to Chief Engineer. We will be recruiting new volunteers in all other departments too in the New Year, so please come along to find out more if you are interested!
Our operational season for 2021 is drawing to a close and we will be returning to our winter base in Sandon Dock, Liverpool in early November, to carry out our annual maintenance before returning to the Weaver in April 2022. Ideally new volunteers would be willing and able to get to Liverpool and undertake training and familiarisation in our layup period before we return to Sutton Weaver. The Engineering team generally work two or three days a week all year, with cruises from spring until autumn. But, of course, volunteers commit as much time as they wish, to fit in with their own priorities..
If you are interested, come along, meet the team and get involved with keeping a unique part of Britain's Maritime Heritage alive.